CHINONYE ONWUACHU is challenged by congenital visual impairment but did not accept her loss of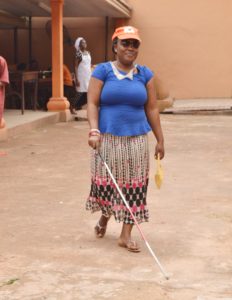 sight as a barrier for the actualization of her dreams. She had a burning desire to know how to use the computer in order to belong and become relevant in the global village made possible by the invention and application of the computers.
Chinonye is happy she has achieved her aim after passing through the Computer Literacy training program in our Resource and Recreational Centre for the Blind.  She now effectively uses the computer, types her documents, accesses to the internet, receives and sends her e-mail, etc. She was also trained in our Independent and Daily Living Skills programs which now enables her to do things by herself.
She puts her experience in Bina Foundation this way: "I am amazed that the learning environment in Bina Foundation is conducive with friendly instructors, free tuition, free lunch, free transportation and free medicament. My entire world of confusion and sightlessness changed with my coming to Bina Foundation. I am overwhelmed. The foundation has channeled me to the right direction and I am grateful."